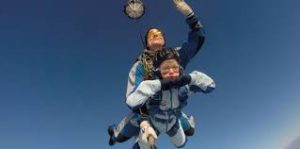 More than 100 officers and instructors of the airborne service from all formations of the Russian Airborne Forces take part in a training camp for the study and practical development of special-purpose parachute systems such as the "Crossbow", the press service and information department of the Russian Ministry of Defense said. Continue reading →
In the sky above Kolomna, Moscow Region, parachutists from the Pearls of Russia team set a new world record for jumping in large formations, surpassing their own achievement in 2012. More than 100 paratroopers gathered a beautiful and complex figure in the sky, which was an absolute achievement in the "large formations" class. Continue reading →
In Indonesia, the 38th SIZM Parachute World Championship ended. Our servicemen have once again proved that they have no equal not only on earth, but also in the sky!
The tournament was held in the picturesque town of Solo, located in the province of Central Java. For several days, servicemen from 42 countries competed in speed and accuracy of landing. 210 participants took part in the World Cup, including 152 men and 58 women. Continue reading →
In the summer period of training, the specialists of the search and rescue and parachute landing service of the aviation units of the Western Military District completed more than 1000 parachute jumps. Of these, more than 300 jumps ended with landing on unprepared sites or were carried out in bad weather conditions, every fifth jump was carried out above the water surface and ended with flooding. Continue reading →
Discharges of the new parachute system for armored vehicles (BTR) and airborne combat vehicles (BMD) "Bahcha-U-PDS" at the first stage of state testing were successful. This was reported in the press service of the holding "Technodynamics" of the state corporation "Rostec".
"The discharges of airborne assault vehicles with the new Bahcha-U-PDS parachute system were successful. Continue reading →